Customize The Way Vista Looks - Skinning Windows Vista
"Skinning" an operating system is changing the way it looks by use of a theme or style. You can use various hacks to do it or you can use a program. Skinning in the Windows world used to be very popular for the first few years of XP but began to die off a few years ago. There are still folks out there doing it, just not as many.
There are lots of themes to choose from. You can make Vista look like Windows 7, or XP, or even OS X. You can find one for your favorite color, or team, or game, or even your favorite Sci-fi movie. Granted, many of the themes are on the Geeky side but hey, that is who makes them.
As you browse the web for the perfect theme / style you'll notice there are a lot of, well...let's just say you'll see that many of the ones you find will not fit your taste. The cool thing is that you can find something you like if you search enough.
I'll use myself as an example:
I don't want anything blue on my computer. It's not that I hate the color, it's that for so long everything was blue. The default look of Windows, and Office, and KDE, and 1/2 the web sites out there use some shade of blue as their default look. I understand the psychology of it, it's safe. I'm just sick of it.
I like darker themes (black, grey).
I've never understood the fascination with the transparency feature in Vista. Not only do I not like it but I find it mildly annoying.
So, the first thing I looked for is a black them with no blue in it. The second thing I looked for was one with low or no transparency. I at least wanted a theme that looked good with it low / disabled.
I realize my taste falls out of the norm but there it is.
Links:
Skinnig (Skin) defined at Wikipedia
Bang On: Vista killed the skinning star (Neowin Editorial) - for the comments as much as the article.
*Warning - This applies to the next 2 sections:
If you are using Vista 64-bit be sure to use themes and or patches specifically for 64-bit. These are often in the form of supplements to the program. As always, RTFM.
Using Non-Microsoft Visual Styles
You know how I'm always saying backup before you try something? Guess what?!
Backup before you try this! This involves using modified system files. You run the risk of hosing your system by following these methods.
This is the free way to modify your Vista theme. The advantage is it's free and there is zero background services running to use the theme. The disadvantage is you'll get no support, from no one, no how! Another disadvantage is you most likely will have to re-patch your system after installing a Service Pack.
Now that I sufficiently covered the caveats, let's dive in! The process is very simple provided you RTFM.
Step 1 - Download, install, and run VistaGlazz. This is a must for just about every theme you will find. What does VistaGlazz do?
Step 2 - Find a theme you like. The place to go is DeviantArt Visual Styles. There is a theme there for every taste, and some with no taste ;) Most good themes will have further instructions.
I choose ProjectX 2. He posted great instructions here that involved replacing a few files and how to apply the theme. I also needed the x64 system files that someone had generously posted.
Here is what the theme looks like installed (click on the picture for a larger image):

Now, I know there are many methods and programs to apply styles / themes. I've found the above method to be the cheapest and easiest method. I've tried darn near every program I could get my hands on. If you disagree spell out exactly why you prefer this or that program to the method I described.
Links:
DeviantArt Visual Styles (ordered by most popular/all time) - IMHO the best place for themes and skins.
For advanced users, the latest Uxtheme Patches - Within Windows.
WindowBlinds
This is a pay-for program. It costs $20 or you can get it as part of Object Desktop. More info at the WindowBlinds Page.
It's advantage is it is very easy to use. It's disadvantage is it does use a small amount of memory (on my computer - 2 processes at approximately 5.5 megabytes of RAM total) . Now I know that there are those who whine that it uses too many system resources but in my experience that is simply not the case. There are some programs that will look or act a little strange with WindowBlinds. Photoshop is one but that problem is remedied by adding it to the WindowsBlinds exclusion list. An article at Mozillazine claims that it causes an increase in Firefox's memory use which I have not found to be the case. But if it is a problem for you, that too can be added to the exclusions list. Most skins are free, some you have to pay for.
Where to find WindowBlinds Skins:
DeviantArt WindowBlinds Skins (Vista) - Highly searchable!
Wincustomize WindowBlinds Skins (Vista and WB6 ready) - This site is often slow.
The skin I choose: Wraith - By SKoriginals ($4.95). Wraith page at DeviantArt, has lots of extras for this theme (see his full-size preview at this page for Wraith in all it's glory).
I use Wraith - Light version
My Wraith desktop:
Full Size (1680×1050), Medium Size (1000×625)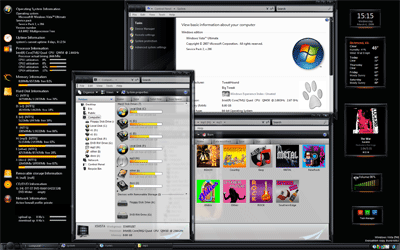 A Few Other WindowBlinds Skins I Like:
Fools Gold (free) Very nice!
Anonymity (free) I would call this "Chic Geek". I really like it but it's a tad too dark for me. Would love a "light" version.
Gizmo (free) - Geeky & Cool. Not as dark as the others. I may use this one my laptop.
That's it for now! I hope this has at least introduced you to some ideas about Customizing Vista. Sometimes you just need to have a little fun!
Article Index
Article comments go in the Blog post here: Customizing Windows Vista