Windows 10 & SSDs
You do not need to tweak Windows 10 for SSDs.
Let me repeat,
YOU DO NOT NEED TO TWEAK WINDOWS 10 FOR SSDs.
Straight from Microsoft:
"A solid-state drive (SSD) is a hard drive that uses solid-state memory to store persistent data. An SSD must have a minimum of 16 gigabytes (GB) of space to install Windows. For more information about drive space and RAM considerations, see Compact OS, single-sourcing, and image optimization.
Note – It's no longer necessary to run the Windows System Assessment Tests (WinSAT) on SSD drives. Windows now detects SSD drives and will tune itself accordingly."
From the Intel SSD toolbox user guide:
"In Microsoft Windows 8, Superfetch functions differently than in previous versions of Windows, and should not be disabled for an Intel SSD."
Micron – Windows 10 and Your SSD

"To be honest, between Windows 8.1 and Windows 10, there are no major new requirements for SATA storage devices, particularly for SSDs…Trim is more readily available. Trim is an operating system function that helps an SSD manage space containing data that has been deleted or invalidated by the operating system. Trim has been available since Windows 7, but was somewhat invisible to the end user. This is fine in most cases, but some end users may want a bit more control. Now, trim is available in the drive Tools menu, in a feature called Optimize."
---
Warning: Opinions Ahead

re: Manufacturers SSD Tools
Under Windows 10 you DO NOT need these apps to setup your SSD or tweak performance settings. Some of these are fine for viewing drive info and updating firmware. Some of these also offer over-provisioning options, which is just fine if you choose to use it. But some of these offer some rather dubious settings when it comes to Win10 (I'm looking at you Samsung).
---
Intel
Windows 10 is setup correctly for an SSD by default.
Windows refresh done, TH2 just installed, Intel SSD Toolbox just installed.
System Tuner tab. Perfect. If you want to argue you can contact Intel's engineers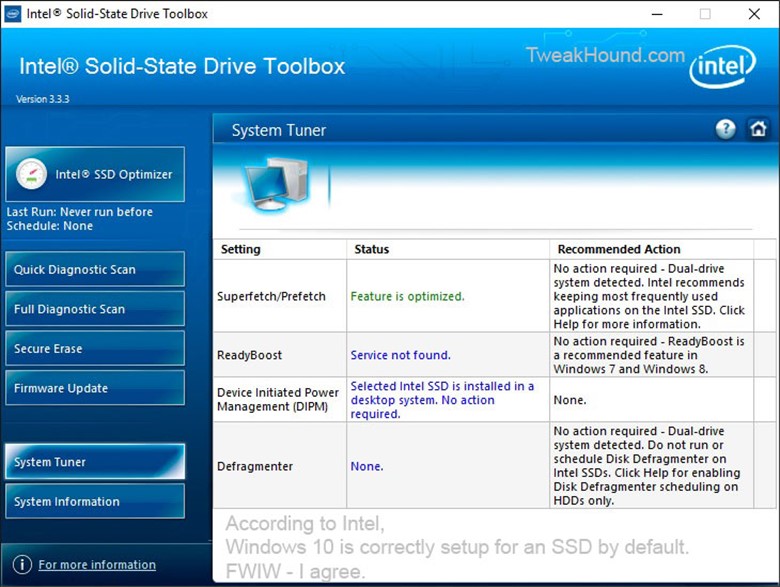 ---
Samsung
Samsung is known to have some of the fastest SSDs around. I like and use their drives. In fact, I prefer them. However, I have several issues with their SSD tool called Samsung Magician Software for PC under Win10. Frankly I don't think they've done any work or investigation of this software except the Win10 rapid mode bug.
This is from the help file of the Samsung Magician Software. My comments are in italics.
Maximum Performance
♦ Hibernation Mode – Activate to setup standby mode
No thanks, I don't do hibernate.
♦ Virtual Memory – Activate to maintain the maximum amount of available memory.
This is the Win10 default setting.
♦ Indexing Service/Search -Activate to increase the speed of data searches.
This is the Win10 default setting.
♦ Prefetch/Superfetch -Deactivate this feature, as SSDs already have very fast access times.
No. Ask Microsoft and Intel (see above)
♦ Write-Cache Buffer – Activate to increase data storage speeds.
This is the Win10 default setting.
♦ Write-Cache Buffer Flushing – Deactivate for Samsung SSDs, as this is an HDD Feature.
No. From Samsung's own whitepaper (with spelling errors corrected): "Samsung strongly recommends that Write-Cache Buffer Flushing be enabled at all the times. However, if you are more concered with performance than data integrity, you are welcome to disable this feature to eliminate extra commands being sent to the SSD to flush the data."
Strange though, as I've mentioned before, "Guidance in the Intel SSD forums say disable this (or rather, leave it disabled) though I've seen no benchmarks or official statements on the matter."
Your call.
♦ Power Setting Options – Choose High Performance in the power options window.
I do my own power plans
♦ System Restore Options -Deactivate the auto backup feature to avoid unnecessary writes to the SSD.
Be sure to blame Samsung when you lose your data.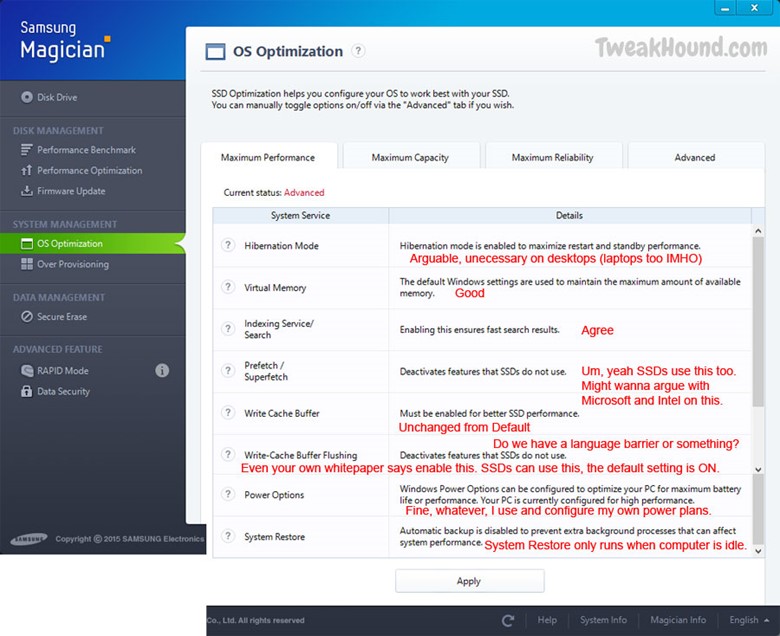 Rapid Mode
Samsung Rapid mode can increase performance of your Samsung SSD.
http://www.samsung.com/global/business/semiconductor/minisite/SSD/downloads/document/Samsung_SSD_Rapid_Mode_Whitepaper_EN.pdf
When enabled, RAPID mode is inserted as a filter driver in the Windows storage stack. The driver actively monitors all storage-related activity between and among the operating system, user applications and the SSD. The RAPID technology analyzes system traffic and leverages spare system resources (DRAM and CPU) to deliver read acceleration through intelligent caching of hot data and write optimization through tight coordination with the SSD.
Geeks seem to either love or hate rapid mode. There are continual reports all over the web of rapid mode causing problems and crashing systems. Personally, I'm not using it with Win10.